Drinking Horn Stand, Part 2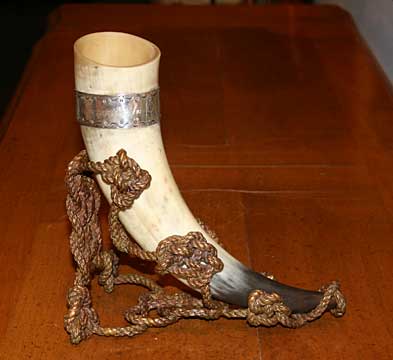 ---
Completion
---
The following pictures, as well as the one at the top, were taken by John's son, Chris, at John's house in a much better setting to present how this stand and drinking horn looks in use. I think he did a really good job in taking the pictures I was hoping for. Thanks Chris.
And this last picture is of one of the braids, to show the detail of the finished stand.
---
---
Thanks for taking the time to view this commissioned work. If you have an interest in having a work of your own made, please contact me in one of the various ways at the bottom of this page.
---
---
Please note: All the images you see and the pages you see them on are covered by copyright laws and it's a lot cheaper to deal with me directly than not. Thanks for supporting the rights of the artists.
Copyright 2009 by Michael Dunn

All rights reserved
---
Enchanted Creek Studios
Box 455
Boulder Creek
California
95006
Phone: 408 395-0881
Email: michael@enchantedcreek.com
URL: http://www.enchantedcreek.com
---
Last updated on January 25, 2009